3-2-11
Off to Long Island today. The wind was coming at us again, so it was motor all the way. I'm beginning to feel like we're in a troller, not a sailboat!
The sky was blue and the sea green. The day was a beautiful one! We even saw dolphins on the way, a rarer sighting here in the Bahamas then up along the U.S. east coast.
Clouds were building up all along the horizon, evidence of the new front moving in. Because the water is shallower in this area, the clouds were tinted a faint greeny blue on the bottom, reflecting the light bounced off the sea below them. I enjoyed sitting out on the bow and watching the water disappear below me. The water was so clear, I could see the starfish sitting on the sandy bottom wizz by as we sailed over.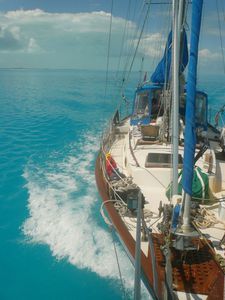 We anchored in Thompson Bay, Long Island. This seems to be a good holding and a well protected spot from the NE winds that will be roaring in. We'll probably stay here for the next few days and explore Long Island in the meantime. It will be a nice change of pace.