2-17-11
Sailed over to Black Point, today. Well, more like motored over there. Gary and Carol worked on cleaning and straightening the cabins on the way over, while Kris taught me a bit about navigation and plotting one's position well underway.
Once on the island, Carol and I were excited to see that there was a laundromat. Hooray for clean clothes! We headed over there and met up with the Mounts. While the clothes dried, we stopped at a local restaurant for dinner. Shane, Kris and I found some good pizza at one restaurant. Thicker crust and just the right combination of sauce, cheese, and toppings. I highly recommend it.
Now we have clean laundry and full water tanks (it's good to have a water maker on board!). We're ready for tomorrow!
2-18-11
In the morning, Gray and Kris came back from taking Spinny out for a walk. They'd found another bow hole, and this one was really going! Kris took me over there and I had fun taking a few photos. Kris had some fun too, and I got a little wet getting up close and personal with the hole's spray.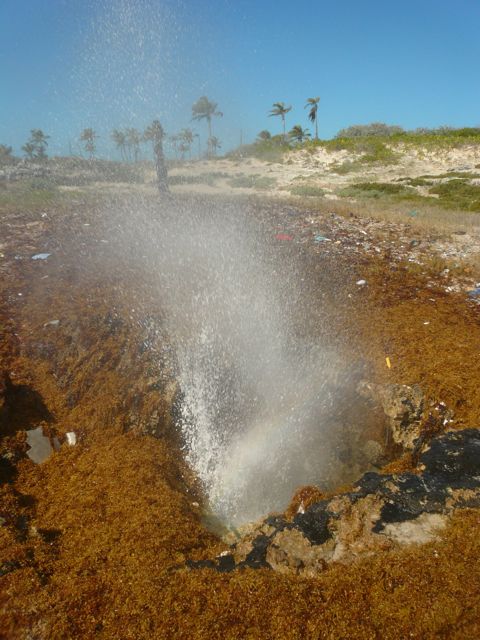 After lunch, Gary and Mike headed off early today on another great lobster hunt. Carol stayed on the island with Chrissy to look into getting a Bahamian cell phone. Kris, Shane, Spinny and I headed for the beach. We spent hours flying the kite. Well, at least Kris and Shane did. Spinny and I played stick for a while and I took video of the boys' shenanigans. Later in the day we made a short film of it all. Kris loaded the video up on the previous blog post.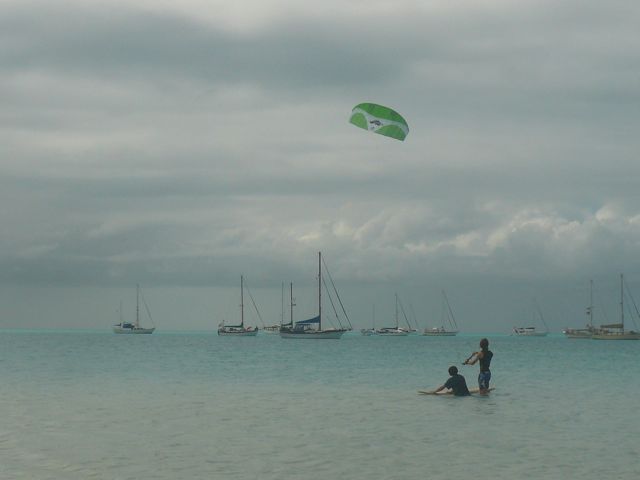 Mike and Gary's lobster hunt was unsuccessful, but Carol and Chrissy got their cell phones! We all met up at Scorpio's Restaraunt and Bar for happy hour and 2 for 1 rum punches. Yum! After the party was over, Kris helped Shane with his trig while Carol and Gary relaxed with a movie and I dove into my book. After a long day, we were all tired out and glad for a bit of rest.
2-19-11
Today was to be another day of fun in the sun. Gary and Mike headed off once more to hunt those dastardly lobsters. Actually, as Kris pointed out, with the borderline crazed motivation with which Gary hunts these lobsters, he's more like Ahab after Moby Dick rather than Elmer Fud after Bugs. So, with Hawaiian sling spear in hand, Gary was off on the hunt once more.
Kris, Shane, Spinny and I headed off to the beach once more. After Spin and I took Kris's smaller one string kite for a fly, Kris convinced me to give the power kite a try. I let it drag me through the water, body surfing style, just as he and Shane had all the day before. Just after a long and wet run, we heard shouts from the shore. We had company! Four local brothers clamored over the rocks and toward us, shouting "Wow! Can we do it?!" Kris gave them all rides, having then lock their arms around his waist while he had the kite tow them through the water. The boys stayed on the beach with us, building a village in the sand, playing fetch with Spinny, and riding around on the surf board when the kite lost their interest. I learned three of their names, Greggory, George, and little Katwaun, who at 6 years old became my instant friend.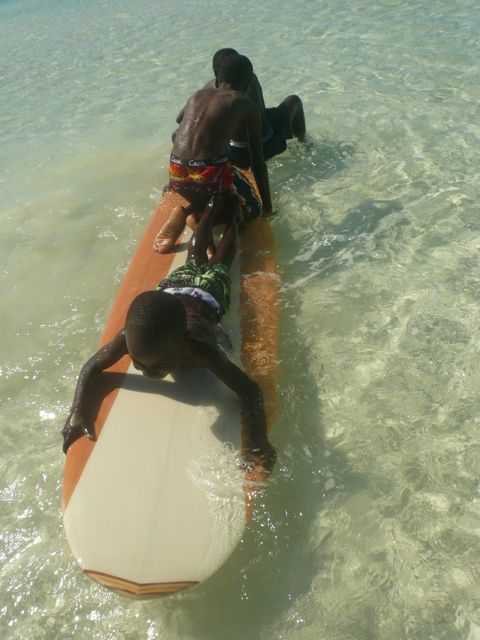 After a hawk had taken a dive at the kite, Spin was completely soaked and tired out, and Kris and Shane tired of flying the power kite, we headed back for the boats, waving goodbye to our new little friends. We rested up on our respective vessels.
While resting, we heard a shout from the water. It was Mike and Gary back in our dingy. In the boat with them were 8 small but fresh lobsters! Guess what we're all having for dinner tonight?