The internet is being slow and truly frustrating tonight. However, I would like to share with you a photo taken on Gary's birthday, March 31st.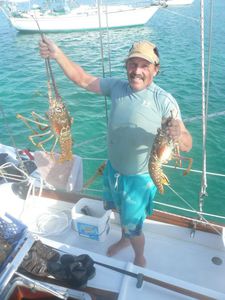 Look at the smile on his face. Ahab our lobster hunter was back for the day, but this time he captured the white whale…or red spiny lobster. The one to the left is the largest we've seen in the Bahamas. I got to watch it swim right past my head when it shot out of the hole Kris and Gary were working on. It was truly a wonderful birthday for Gary, with the catch totaling 4 nicely sized lobster and 9 conch.
More about Gary's birthday and the rest of adventures to come…just as soon as we can get a good internet connection!