2-10-11
We left Nassau later in the morning and headed out toward the Exuma Cays. The wind was parallel to our course, so unfortunately we had to motor our way over there. Spent most of the day crossing the Exuma Bank, watching for coral heads along the way.  We stopped at Highborn Cay, in a nice little cove to the north of the island. It offered good holding and a SW to E protection. We had to steer around some little reefs, but the cove offered clear water to a nice, sandy bottom. A big, wide beach was available for taking Spinny ashore, and later, for flying Kris' big green kite. All were very pleased with our find.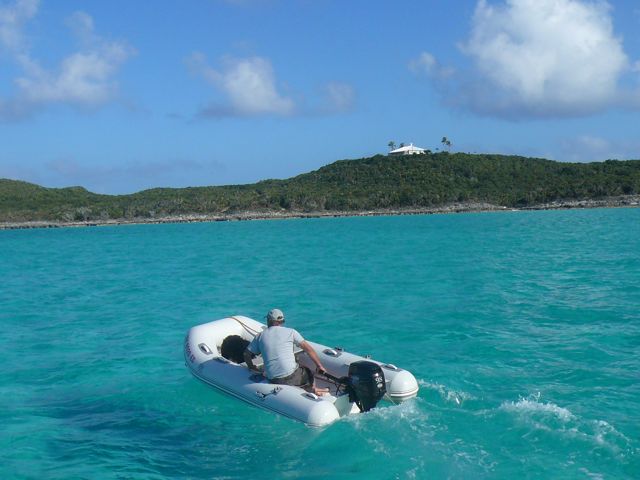 2-11-11
Today we spent the day over on the neighboring islands of Allens Cay, home to a subspecies of Northern Bahamian Rock Iguana found no where else in the world. The iguanas clammer over to the beach when you land your dingy, looking for food (many visitors like to feed the iguanas things like bread and dog food). We were told not to feed them or bring Spinny over as the iguanas can get aggressive. A couple of iguanas tried to toughen up and make a move on us, but all you had to do was stomp on the sand to let them know who was bigger.
The iguanas were not the only inhabitants of Allens Cay. We also saw a few tiny lizards, an osprey, and a few conchs in the water. It was a wildlife excursion! Gary snorkeling off the north eastern end of Highborn later that day and saw a few colorful fish, eels, but no lobster (to Gary's dismay). Later we took a walk into town and continued the wildlife safari at the marina where we saw a few small barracuda, a couple of colorful fish, and a large sea ray in the marina water. What a day!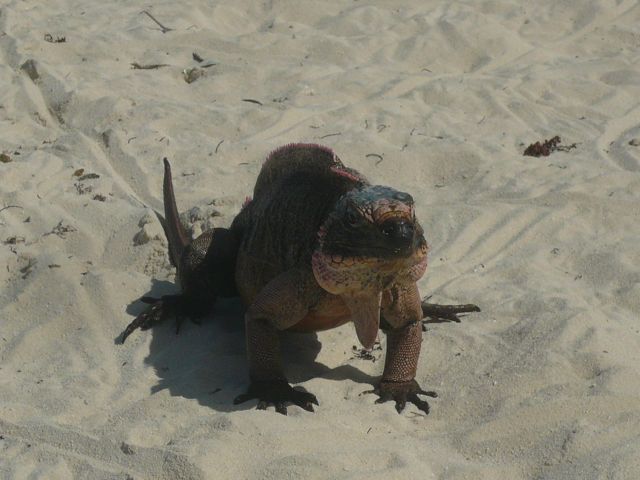 2-12-11
We awoke to high winds out of the north this morning, along with dark grey skies. Where had our beautiful, sunny, 80 degree weather gone? Our cove didn't serve us much protection and we had to move on.  We made our way down to Warderick Wells Cay, and even got a nice sail down, hoisting up the main and the mizzen and unfurling the staysail.  At the start of the sail the winds were clocking around 15-20 knts and built up to 20-30 knts by the end.  That was exciting!
WWC offered good N and E protection, just what we needed.  We heard tell that there are many different types of birds on this island, but it was much too windy to see any of them!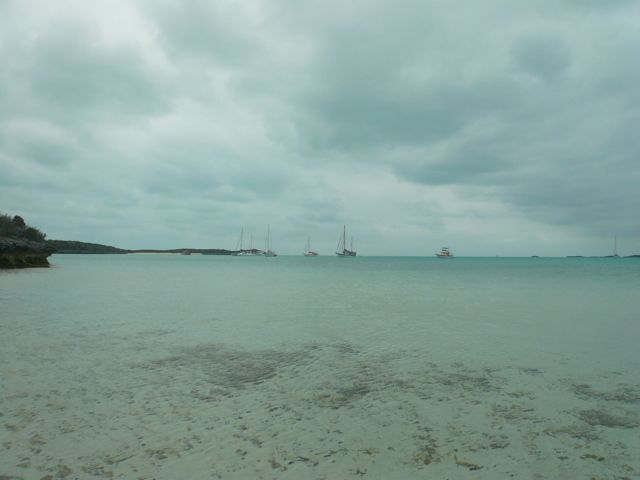 2-13-11
Today was another grey and windy day. We took the opportunity to explore Warderick Wells further.  We signed up for internet from the park and then took a walk over to Boo Boo Hill, and haunted part of the island where blow holes littler the NE coast and the hill there offers a beautiful panoramic view of the islands. Atop the hill is a pile of driftwood with peoples' ships' names painted and carved upon them. We have to find our own piece of driftwood and leave our marker on Boo Boo Hill.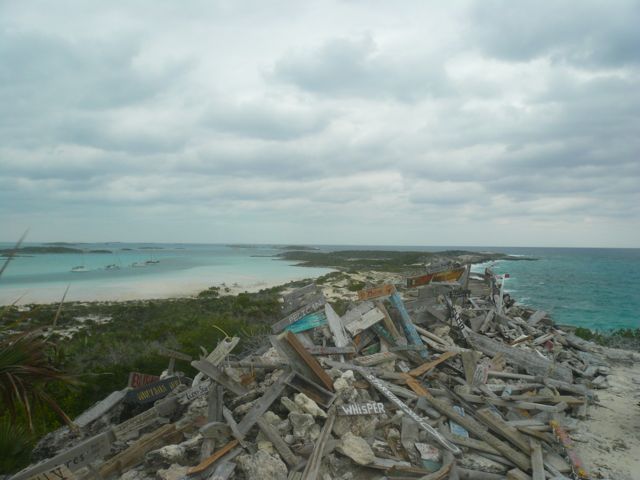 Kris and I explored the island further, traveling to some old plantation ruins further south on the island.  Then we were off to Escape Beach on the SE side. On the far shore spray from the waves shot up 10+ feet into the air. We discovered a tunnel and blowhole further down the little island. We only saw a few birds, as most of them where all still hiding from the wind.
We like it here and may stay another day. The weather is supposed to start clearing up. Maybe we will get to see those birds tomorrow!