September 30, 2010
A fierce storm has been sweeping up the east coast, causing flooding wherever it goes. The Carolinas were hit earlier today, and the storm swept further up. High winds and choppy seas were threatening the Big Apple. We decided to stay the day in Kingston and stay out of the weather.
It rained for most of the day today, but the winds up in Kingston were not too bad during the day. Carol and Gary got breakfast at a local cafe. Kris and I took the opportunity to explore the Kingston Maritime Museum.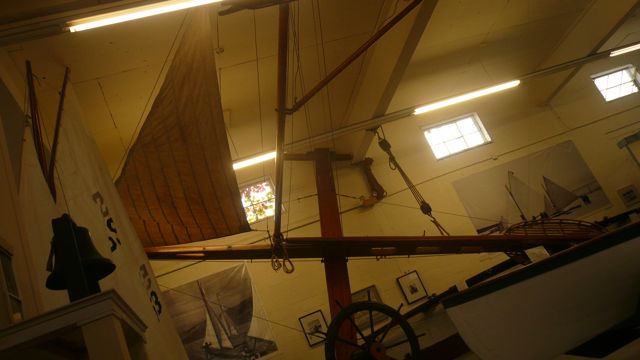 Here is an old ice boat in the museum. The wealthy used to make a sport of ice boating in the wintertime on the Hudson in these sailing contraptions. They were the fastest moving vehicle in their day! Now a few passionate, but not necessarily wealthy, New Yorkers have restored some of these boats and continue the passion on perfect ice sailing days on the Hudson. It was really awesome to the see the pieces of some of these boats. It would be even more amazing to see them (or even ride one) on the ice!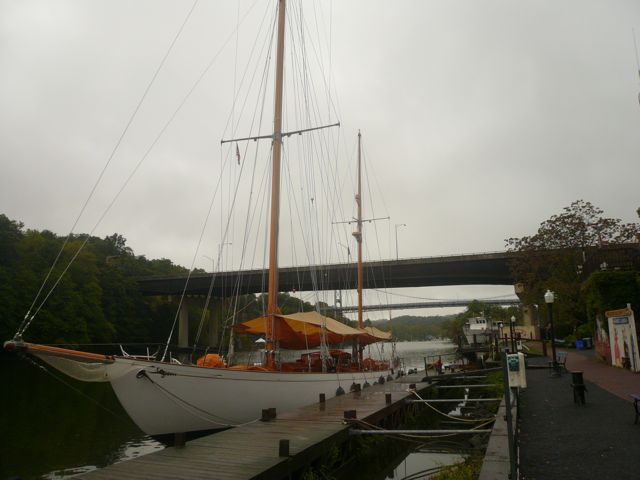 A beautiful wooden Ketch that had been restored and was docked next to the museum. We couldn't tour it however, as it is someone's private boat.
(Side note: Hans, we fully expect your boat to look like this next season!)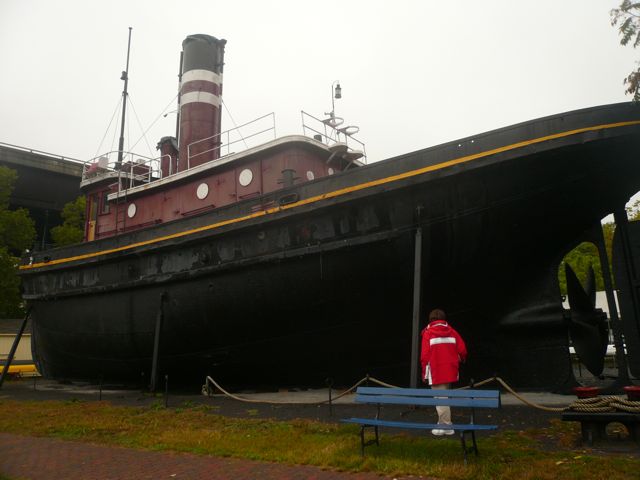 Kris stands before the tug boat Mathilda. The Museum is hoping to move the tug out of their court yard and closer to the street, as well as open it up to visitors, allowing them to walk inside it's historic innards.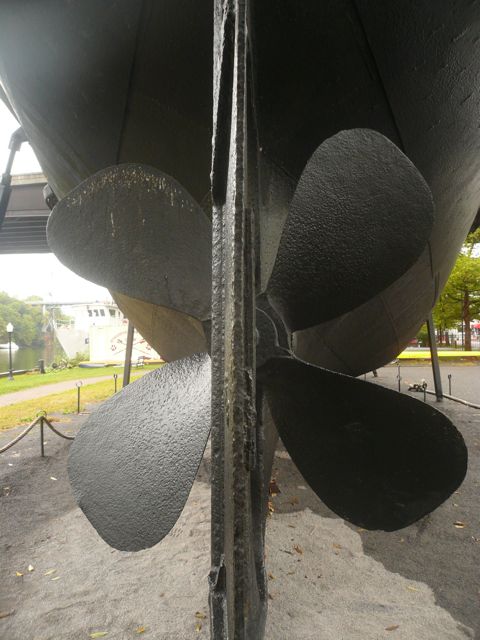 The Mathilda's giant prop and rudder. Big and beautiful.
Kris and I got a hot bite to eat at the local Irish Pub (run by and honest to goodness Irishman, so hot Irish Soda Bread, shepard's pie, and bangers were of corse on the menu, along with the typical Irish American items (stew, Ruebens, fish and chips, etc.) Yum!)
The rest of the day was spent shopping for groceries, taking Spin out for a walk, and watching Hell's Kitchen and Apocalypse Now (fun line up huh?). A lazy rainy day. It felt as though we were on vacation!
The winds picked up at night. Later we learned that Annapolis and New York were being flooded as well (Here's a New York Times article from this morning). We hope the water can be cleared soon, but there's no changing the weather I suppose. All you have is what is given to you.