March 29, 2011
It is hot, hot, hot! A cold front had moved in last night, bringing high winds and cool temperatures. However, as the day went on, the heat turned up. Storms still stirred between Spanish Wells and the Abicos, so we decided to stay one more day in the fishing town. Because the weather decided to turn up the thermostat, Kris and I hit the beach. A swim in the cool shallow water of the beautiful north beach was just the thing to beat the heat. Something in the salt water, the sun, and the sound of seagulls brought out our inner child, and Kris and I found ourselves up on the beach building sand castles and forts.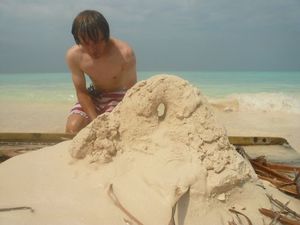 We have really enjoyed our time here at Spanish Wells. The people are pleasant, the restaurants are reasonably priced, the streets and homes are well taken care of, and the beach is beautiful! If you'd ever like to vacation in the Bahamas, but not by boat, there are several cute and clean beach cottages for rent here. I highly recommend Spanish Wells as a quite and relaxing tropical vacation destination. Besides, if you ever want to leave the peace and comfort of the little fishing town, there is a high speed ferry available to nearby Eluthra and Nassau for a fun and versatile day trip.
My only regret on being here is that we have not seen the mother manatee and her two babies who frequent the Spanish Wells marina. Last time Kris and Gary were here the manatees visited for a good munch on sea grass and a drink from the fresh water hose.