October 7, 2010
The winds were a bit more gusty today, not as ideal sailing weather, but pretty good nonetheless. We were ready to get those sails up and get this boat to the ocean! And we did.
It was rough getting out of the bay and around Sandy Hook, but after we got into the open ocean, the chop and rollers calmed down and spread out. We hoisted the staysail and the mizzen to start out as the gusts were climbing up to 30 kts and kept the motor running to give us more speed. With a whoosh of the lines and clicking of winches, we were sailing!
No real sign of sea life, but birds in the distance told us where the fish were gathered. The water was beautiful and the breeze was delightfully salty. Horizons was finally out on the open ocean again.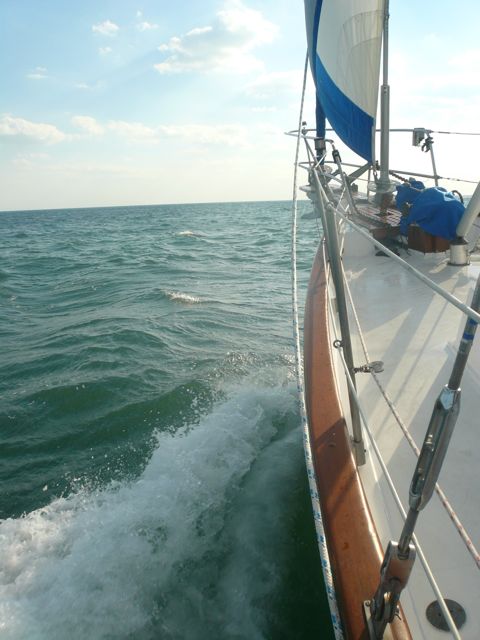 I put on some music, and we began truly cruising, for the first time the entire trip. (I'm not counting Lake Erie…that was more like a crazy, rolly rush across the lake). Waves lapped up against the hull and white foam dotted our wake. It didn't feel too much different from a calmer day on Lake Erie, but the endless horizon to our port side, the one that stretches all the way to Spain, told us that this was no lake, not even a great one. This was the Atlantic Ocean!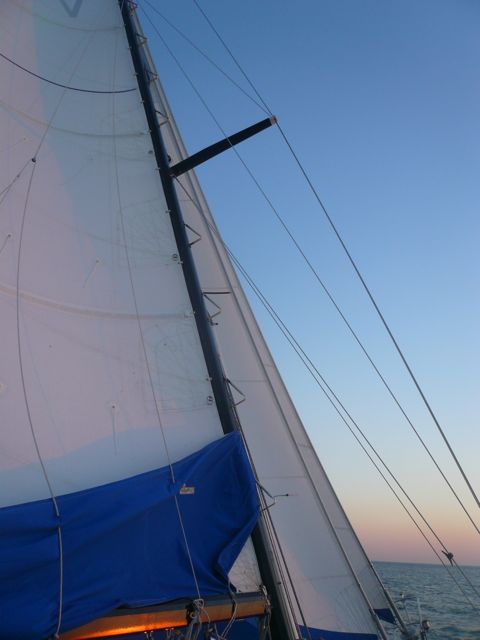 As the day progressed, the winds became more steady with less gusts. By evening, we decided to hoist the main, and finally, the genoa. As the sun sank lower in the sky, the world was infused with brilliant color. The sails looked as if a light rainbow had spread across them. I sat out on the deck and soaked it all in. This was truly a wonderful evening to be alive.
The sun set slowly to the west, and dark came over the Atlantic. Little ocean fireflies dotted our wake now, tiny bioluminescent plankton that light up in the water. Stars filled the clear open sky, streaked by the Milky Way. We sailed on into the night until we got to the bright lights of Atlantic City. We had hoped to go all the way to Cape May, but it being 10pm already, we decided to head in. If it was open ocean all the way, we might have gone on 'til morning, but we had a canal coming up.
None of us were much in the mood for gambling (at least with money in slot machines…boating is always a bit of a gamble in itself). So after walking Spinny around, we all headed in for bed. It was going to be an early morning in the morrow.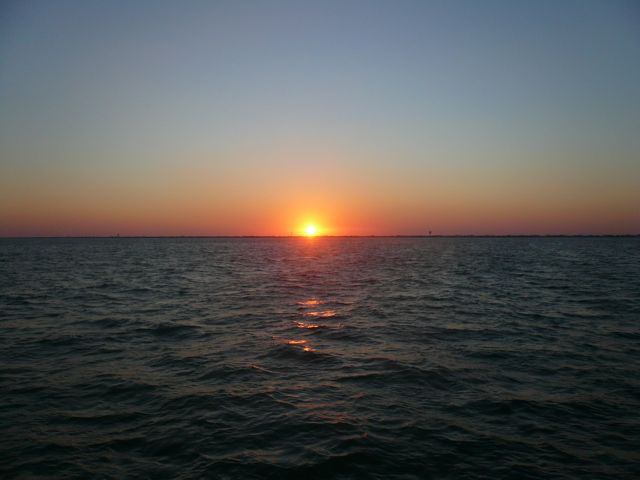 I'd like to finish this blog post with blips of the conversation Kris and Gary are having behind me as we sail smoothly across the ocean. They're talking about the trip:
Gary: "We weren't thinking about this when we bought the snark huh? Or the sailfish, remember when we got started with the sailfish?"
Kris: "Yeah….Well, I think it's when we got the Hunter this was a little more on the horizon."