September 22, 2010
9:00am…a light drizzle mists the air…time to take down the masts!
A long process. Take down the booms. Wrap up the sails around the booms. Disconnect the electronics running through the masts. Strap the mizzen to the crane hook. Carefully loosen and disconnect the stays. Lift and direct, slowly. Lay down on the dock. Repeat for the main, adding disconnecting the genoa and the staysail. Lay the main on across the top of the cockpit and onto the mast cradle constructed the night before. Lay the mizzen next to it. Load on the booms and sails and plug up the holes. And voila, in a nutshell, there we have the recipe for an awkwardly shaped motor moat!
We're all set for the Erie Canal. Look out Sal, here we come!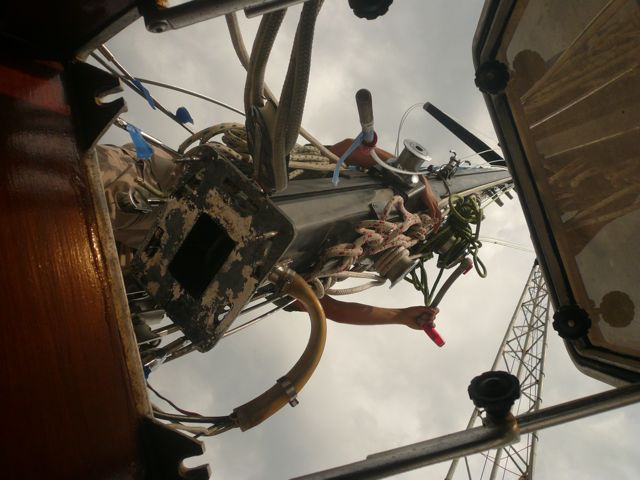 We left Wardell's in good spirits. Deciding to get a head start on the canal, we headed down to Lockport. Passing under the low bridges gave everyone a weird chill down their spines. We shouldn't fit under these! But now that the masts law down across the top of the boat, there was no problem.
We put in at Lockport around 5pm. The lock worker was kind enough to let us dock next to the lock, in the water that they use to raise and lower the lock levels. This gave us the opportunity to check out the stair step system of locks 34 and 35 of the Erie Canal. The old canal lay next to the new one, it's doors removed and the water cascading down the locks in waterfalls. The lock goes down and impressive dispense. It'll be an exciting first Erie lock to go through.
18 miles down the Erie Canal.