October 8, 2010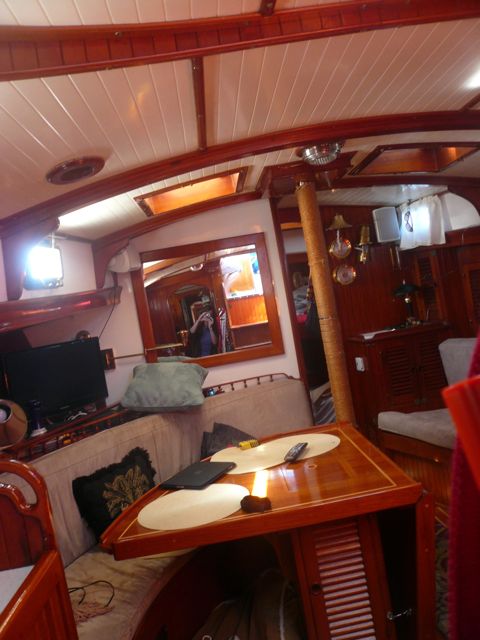 Another beautiful day on the Atlantic! The water was amazingly calm today. If yesterday didn't feel like an ocean, today certainly did not. In fact, it was almost too calm even for a good sailing day on Lake Erie.
Good sailing too. We put out all four sails and really got her heeling! Carol was not happy with the boat being so "tippy", but the rest of us were enjoying it immensely.
-*-*-*-*-*-*-*-*-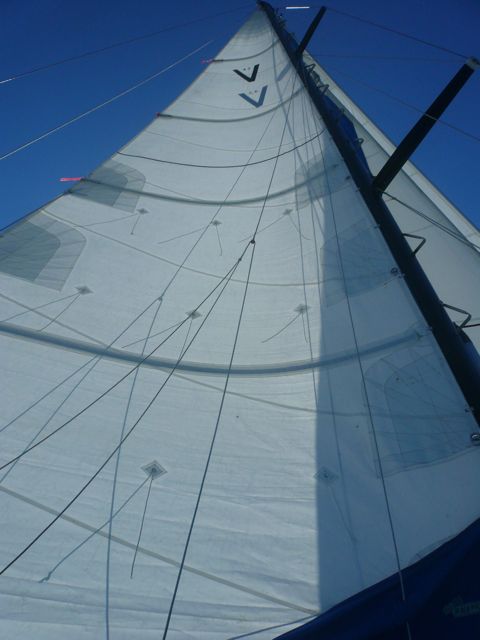 We worked our way down to the tip of New Jersey, Cape May. We had an hour and a half to kill until the tide would be in our favor, so we drove into the bay, hoping to find a restraunt to dock and eat lunch at. As we came in, Kris suddenly shouted, "Dolphins!" We all came rushing up to the cockpit. There they were, dolphins playing at the bay's mouth. I tried to take some video and pictures, but dolphins are so hard to capture on a little digital camera. Everyone was excited to see them, including Spinny!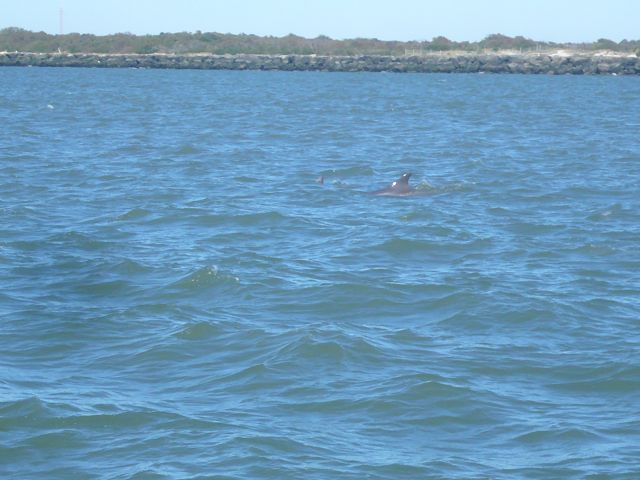 We couldn't find a dock deep enough to stop in at. Disappointed that there would be no lunch (and no potty break for Spin), we headed back out onto the ocean. The dolphins were there to greet us once again. Still having to wait an hour, we headed over to the Cape. Seeing that the mouth of the Delaware Bay was marked "Prime Fishing" in the chart, we motored around and let Gary cast out a line. The sandy shoals in the water had shifted shape from where they were marked on the chart, however, and after having to reverse and turn around over and over again, we finally gave it up. It was time to enter the bay anyway.
The Delaware Bay was one of the eeriest places we've sailed through. It's so large, you feel as if you were on the ocean, and the water was especially still on such a calm day. You find yourself following an endless channel, with buoys appearing out of nowhere on the distant horizon. After two days out on the salt water, this strange place started to get to our heads a little.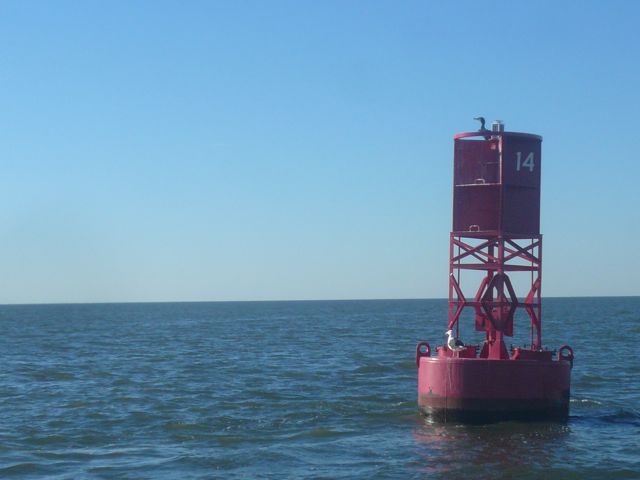 It started at sunset. Being near Washington D.C. and Baltimore, at least 10 or more planes were in the sky. Contrails streaked the orange sky. Staring out toward the setting sun, Gary suddenly spoke, "There's a UFO out there."
"What? Yea right, that's an airplane."
"No, it has a funny round sort of shape."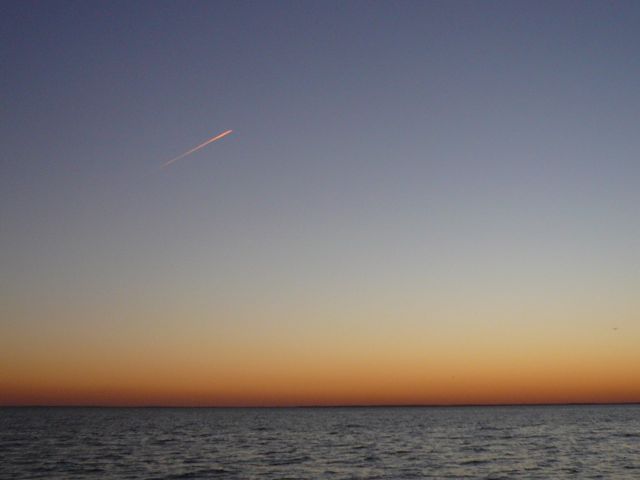 Kris and I tried to tell him that it was just an airplane shining in the sun, but he was not fully convinced. I started singing Close Encounters of the Third Kind tones as well as the Twilight Zone theme.
But there was more to come. The Bay became even more eerie after dark. Bouys now blinked in the distance and it was difficult to see exactly how far away they were. A nuclear power plant was lit up on the horizon. Large ships would materialize out of nowhere, coming our direction, and pass us by.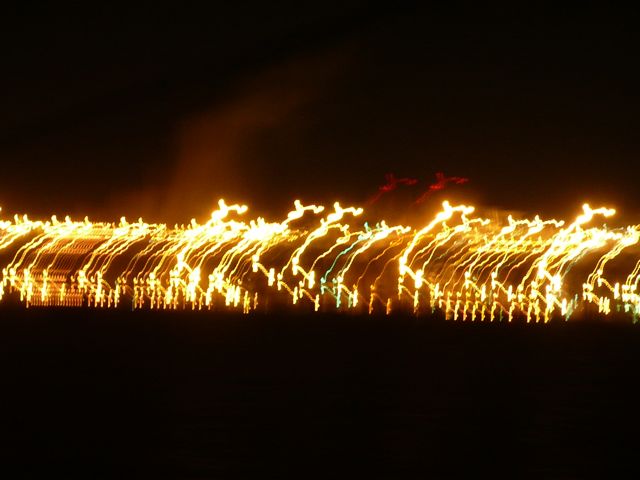 [This is a long exposure photo. Doesn't work too well on a moving boat, but I wanted to try and capture the nuclear plant's tower. You can just barely see it to the left, but in the night, it was large and looming.]
Closer to the mouth of the Delaware River, two bright lights that had been on the horizon appeared to become closer. They stood one on top of the other, and the lower one was flashing. We couldn't figure out what it was. Was it a boat? We checked the light chart. Was it a tug boat towing a barge? How close was it? It wasn't showing up on the radar at all. It was a ghost ship.
We were nearing a bend in the channel and still we hadn't caught up to the ghost ship. As we turned, the lights grew further and further apart. "It's a range marker!" Relief. The mystery had been revealed. There was no ghost ship after all.
Next came the fun of finding a place to stay. We didn't want to go through the canal that would take us to the Chesapeake Bay in the night. It looked well lit at the entrance, but we didn't know how well lit it would be all the way down.
We made out way over to Delaware City. According to the Skipper Bob cruising guide there was a marina and free dock over here. We could anchor out, but we wanted to take Spinny in for a potty break and we didn't want to lower the dingy in the dark. After circling the waters in front of the town like fools, another boat came by and motored into the hidden marina channel. We were saved! We crept cautiously in. The boat we'd seen motor by was already docked. The captain assured us that there was enough water and urged us to continue in, all the way to the gas dock. We crept along until we saw another ketch. It's captain began shouting as well. "Over here! Bring her in right here!" He pointed in from of his boat. We swung in and he and his wife helped tie us up. Their names were Cary and Dina, and they had a 2 year old chocolate lab named Cody. We were glad to meet them and were sad that we had pulled in at 11pm, tired and worn, and expecting to get up at 5:30am the next day. Our new friends said that they were driving to Annapolis for the boat show as well, so hopefully we will see them then.
Another long day has gone by with only the promise of 5 or 6 hours of sleep. Oh well, that's life on the boat for you!